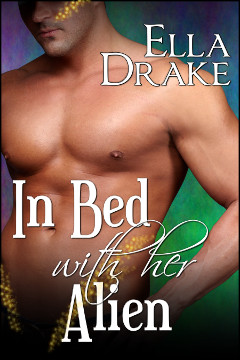 In Bed with her Alien
Science Fiction Romance
Novel
A college graduate reunites with her alien lover
published by Ella Drake
series:
My Alien Stepbrother
April 29, 2015
Darenda Belafonte wanted to ditch her mother's wedding, but the painful night made an enticing turn when she ran into her ex at the hotel bar. An alien who'd left her to fulfill his arranged marriage contract, Luke Noon was a distraction she knew was bad for her but one she took anyway. After all, he hadn't met his fiancé yet. One last time couldn't hurt. Anything to not think about what her mother had done. After a night blistering the sheets, Darenda and Luke are shocked to find their parents had married in a diplomatic arrangement to join the two worlds.
She fully intended to send him packing. Soon as she figured out how to stop landing in bed with him.