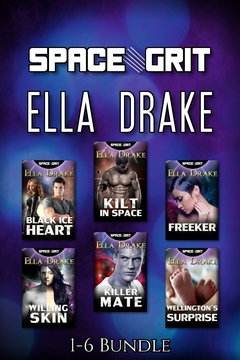 Space Grit Bundle
Science Fiction Romance
Bundle
Glom the series while you can!
published by Ella Drake
series:
Space Grit
June 6, 2017
Catch up on the Space Grit series before the release of the last book, Breaking the Admiral. This bundle starts with Black Ice Heart and the origins of the Scoriah brothers who form the Bronson family. Books 2-6 take us through the journeys of Warrant, Echtei, and Tee finding their mates with two additional stories, included here in order: a romance between their heart-sister with her closet-monster. And an epilogue-type story for Tee and Mal's new addition to the family.
We're not done with the Bronson family after the completion of this first series. In Killer Mate, we met a character from another set of aliens, the phoenix. The Scoriah and phoenix will clash and mix in the future in a spin-off series, The Phoenix Cycle. And as you'll see in Breaking the Admiral, we still need to find mates for Chaz, Nick, and Quad.
All stories are hot, action-packed, and end with HEA (Happily ever after).